New, Volvo C40 Recharge Pure-Electric Crossovers Near Palo Alto, CA
Finally, Volvo C40 Recharge has made it to Mountain View, CA. After some delay, you may now explore this pure-electric, Volvo luxury crossover at Volvo Cars Palo Alto.
This new Volvo specimen will surely whet your appetite for total sustainability in a luxury model. As will federal tax credits worth thousands of dollars upon Volvo C40 Recharge acquisition.
Volvo C40 Recharge - Volvo Engineering, Design at Its Best Outside Menlo Park
If anything, Volvo C40 Recharge symbolizes a new approach to luxury outside Sunnyvale.
Given parameters and appointments, there's a comprehensive sense of sustainability in all things comprising. This will soon become the mainstay, Volvo design principle.
As with Volvo production plants being powered via hydroelectricity, new Volvo luxury models offer some form of sustainability.
Even your Volvo C40 Recharge interior leaves no environmental footprint. Carpets, seating surfaces and other appointments are made of recycled material. No leather is found.
So, behold the various other features to Volvo C40 Recharge now offered at Volvo Cars Palo Alto or reserved online:
A single, overnight charge gains 200+miles in all-electric roaming past Redwood City.
From stillness to 60 mph, acceleration has been timed to 4.7-seconds.
Built-in Google applications of Google Maps, Google Assistant and Google Play are all voice activated.
Google Maps will direct you to the nearest public-charging station outside Palo Alto.
The centralized, touchscreen display houses your integrated, smartphone applications.
One-pedal drive delivers a more relaxed drive, with less effort made when braking.
Ambient interior lighting is the perfect mood setter for evenings out with friends and acquaintances.
A palette of up to seven exterior colors may be chosen from.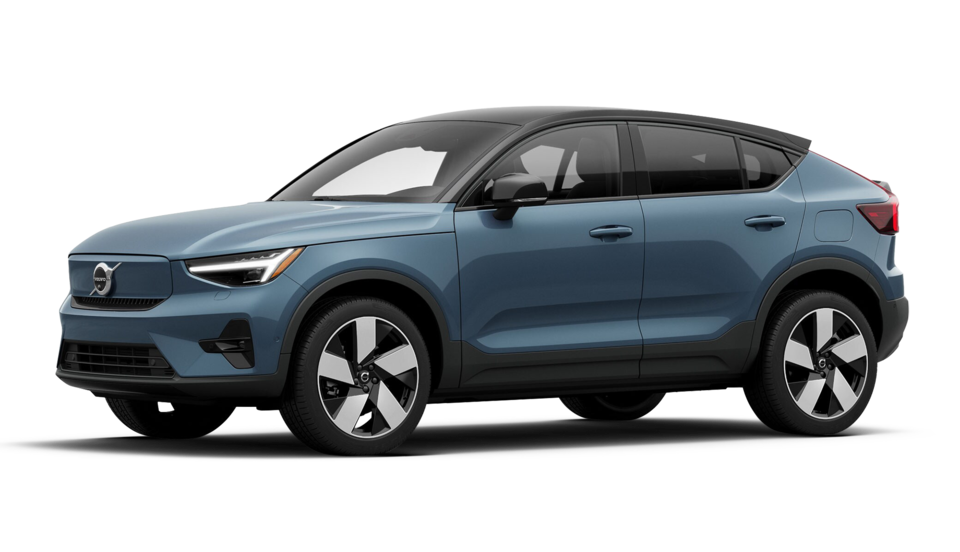 Included is the benefit of zero emissions released and never the need of fuel or oil changes. In fact, servicing and maintenance going forward is likely confined to brake systems and tire assortments.
The Other Advantages to Volvo C40 Recharge Financing, Leasing
Knowing the inherent sustainability to Volvo C40 Recharge, other advantages follow.
And while the benefits may be too vast to ignore, they represent a mission of sorts for Volvo Cars. That is to make complete a lineup that's enabled by some form of electric powering.
As such, browse below for those other details to Volvo C40 Recharge ownership or leasing near Mountain View:
Federal tax credits totaling up to $7,500 may be claimed.
With installation of a ChargePoint home-charging port, additional federal tax breaks may be enjoyed, along with shortened charging times.
State programs offer generous rebate programs for "clean-fuel" vehicles.
Volvo Cars extends a certain period of complimentary public charging, with discounted energy to follow.
The Volvo C40 Recharge battery comes with a Volvo Cars Warranty covering eight-years or 100,000-miles - given car and battery have been properly maintained.
It seems everyday is filled with some form of benefit to owning or leasing an electric vehicle. And the more fuel prices fluctuate and emissions released cause environmental alarm, Volvo C40 Recharge is set apart.
You're essentially free of all turmoil related to fossil fuels and what happens continents away.
Volvo Cars Palo Alto - Featuring All-New, Volvo C40 Recharge Pure-Electric Crossovers Near Redwood City, CA
Visit with us and test drive Volvo C40 Recharge. As well, there might be special offers related to financing and leasing.
And should you not find the proper Volvo C40 Recharge onsite, don't worry.
You may always reserve any Volvo luxury model preferred via Volvo Cars Palo Alto. Simply ask our sales professionals how to begin the process.